CONGRATULATIONS sweet Kevin Fox on becoming our English king this week!

Are you happy to be in the royal spotlight for your very first time?

Are you hoping to receive nice gifts from your family and friends?
Hello my friends and aunts of UC !!! I am very happy to have been elected English Cat of the Week !! It will be a beautiful week of celebrations and joys I am sure. I hope to win many gifts. Snacks is that I can not win because I have a chronic illness and I can not eat anything. X X X X
You're only 8 months old, so a very young fellow. Can you tell us about yourself and what type of personality you have?

What would you say is your best feature?
I'm always purring. Even when the vet gives me injections, I'll purr. I am a small cat because I do not absorb everything I eat. About 65g per day. This amount gives 2kg of feed per month. But I'm still not growing. Despite chronic illness I'm pretty smart. I like to run, to jump, to play fighting with my sister Nefertiti. I'm a normal cat. My mother cares for me with the greatest love. At the moment I am from medical discharge, but I have to take a medicine every 48h. I do not like lap very much. But I am a very affectionate cat. I like to lick my mother's nose... X X X X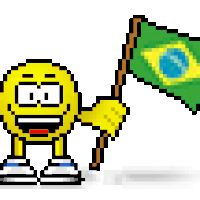 You come to us all the way from Brazil. Is it Autumn this time of year for you?

What can you tell us about where you live?
Here in Brazil we are in the spring. It is the time of year that begins to warm up especially in the city where we live. I do not like very much. I prefer winter with its cold temperature where we can all sleep together and warm. But I really like autumn here from Brazil. I do not leave home my mother protects us making indoor creation. But she bought a blue leash to walk with me. I'm not afraid to go out on the street. We have many trees and old houses on the street we live. It's really beautiful here.
X X
You live with 3 girl cats and one doggie. How do you get along with all of them?

Do you let your 3 cat sisters know that you're the one in charge?
Looks unfortunately here at home the boss is my brother dog Paco de Lucía. He will not let us cats sleep in bed with Mom. Paco is very possessive. Every time I'm playing a fight with Nefertiti, he gets in the way like he's the judge. And I can not do anything!! X X X X
What do you like to do in a typical day?

Do you ever get to go outside and have adventures?
No way. My mother does indoor creation. We do not have access to the streets. The cat that has access to the street can be run over, poisoned, can contract diseases like FIV, FeLV and others. I'm being trained to go out with my mother on a leash. That's because I'm very curious. In this way she decided to let me walk but with supervision. Our home has grills and screens for protection.
Who loves, cares X X X X
(https://www.walkervillevet.com.au/pet-care-advice/cats/indoor-cat-care/)X X X
Besides being ever so cute, what does your family love the most about you? What makes you a special boy?
I am short. And I have a fluffy tail. I look like a fox. That's why my mother calls me Kevin Fox. I'm a good hunter too. Actually, I'm the best hunter in the house. X X X X
How did your family find you?

What made them decide to call you Kevin? Are you called any other names?
I was adopted on July 7. My gotcha day. My mother came to pick me up at the house of a woman who cared for almost 80 cats. I am yellow brindle but on the top I have a reddish hair. My mother searched for names of people with red hair. Kevin is a name for Ireland because it is the place where redheads are born. X X X
What do you like most in life?

Is there anything you don't like?
I like to eat!! Haha... If I were a cat without this chronic illness I think it would be a pretty big cat. And what I do not like is that they catch me on my lap. X X X X
What do you like best about being a cat?

is there anything you would like to do that cats can't do?
Being a cat what I like to do most is sleeping on my belly up. Cats can not eat chocolate and I wish to eat a little cause it looks so delicious!!
Can you share with us an entertaining story about yourself?
I'm very taken. I knock things down, I jump, I play, I love paper balls. I also like to talk. My mother has a beautiful video of me talking to her but I can not post...
Your mom, Beth Ju joined UC in August. What does she like best about the site?
My mom is in love with the site UC and UD so much that she accesses every day. She likes everything but is still learning how to use the sites. Last week she paid tribute to Zo Ikimi for all the Royal Dogs and Cats the Week. The site is very good so we can enjoy the pets of other countries. My mother likes it very much.
You look at the world from a cat's point of view. What do you think the humans can learn from cats?
Humans have a lot to learn from us (cats). We are calm, intelligent, patient, charming and have a strong spiritual connection with divinity. That's why the Egyptians loved us so much!!
What five words best describe you?

Is there anything about yourself you would like to change?
Quiet, curious, smart, gluttonous, handsome
Yes I wish I had been born without this chronic inflammatory bowel disease. So I would grow up to become a big cat. X X X X
Thank you dear Kevin for a very nice interview. Is there anything else you would like to say to all your friends?

Let's give a warm welcome to our very special boy this week, the ever so charming...

KING KEVIN! X X
Dear friends, I would like to thank you all for choosing me the English King of the Week. For me and my family will be a week of intense celebration cause my brother Paco de Lucía was elected too as Croatian Dog of The Week!! It's a double party!! We are very happy!!