This is the week of Christmas, so a very special angel has been chosen to be our English king.

Congratulations dear angel Ludo! Are you happy to be king for your very first time?

Will all the angels celebrate and honor you with Heavenly praise?
I'm so honored to be the English King! Thank you so much! I would love a Heavenly celebration!
It's only been a little over a year since you made your journey to the stars.

Are you happy at the Rainbow Bridge?

Can you tell us what life is like as an angel?
I'm not in pain anymore. My arthritis isn't bothering me. All my kitten energy is back! Buuuut, I still just kind of like sleeping and eating.
You were abandoned when you were 12 years old, and your new family adopted you. It takes very special humans to adopt an older cat. Can you tell us more of your story?
Two other cats and I belonged to an older lady. When she died, her husband left us at a shelter. The other two cats were mean to me, so it was kind of nice to just stop being constantly bullied by them, but I didn't particularly enjoy being in a shelter. I had resigned myself to finishing my golden years out there when I was adopted! My family liked ME regardless of my age! It took me over a year to fully open up and feel safe with them, though. I had some trust issues after being abandoned the first time. After I started trusting my family, I became a very fun old man! I would stalk people to get petting. I'd gently make them aware I was ready for petting by repeatedly meowing and hitting their hands with my paws.
You were such a beautiful golden boy, and now a beautiful angel.

What made you a special cat, and your family misses the most about you?
My family misses my punctuality. Unlike the other cats, I wouldn't start begging too early, and I'd never forget. I was like clockwork. My family still avoids sitting in my spots. I never cared what obstacles were in my way, I would sleep in MY spots. My family misses my sweet eyes and freckled nose. I was a very sweet and gentle boy.
Did you have any housemates in your nice home, and if so, how did you get along with them?
No one really liked or disliked me, but one of the other cats, Spike, and I became really good napping buddies.
Although you only got to live in your nice home for four years before you made your journey to the stars, what did you like best about your human family?

If you could send them a message from Heaven, what would you like to say?
They gave me warm, soft beds, yummy food, and millions of pets. I had an enjoyable, and peaceful last four years. I'm so lucky to have been so loved!
I would tell my family I miss them, and thank you for giving me a home!
What did you do in a typical day to occupy your time?

Did you have a favorite place you liked to nap?
I had two spots that were 100% MINE! One of the bed, and one on the couch. My days consisted of eating twice a day, and napping the rest of the time. Sometimes between naps, I'd go hunt down some petting.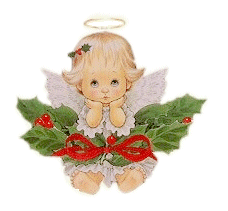 Christmas is the time for giving and sharing, and appreciating all that we have.

As an angel, what do you like best about Christmas?

What do all you angels do to celebrate?
Um, this is a personal opinion here, but I LOVE nibbling Christmas trees! I still nibble Christmas trees to celebrate!
What did you like most in your life on earth?

Was there anything you didn't like?
I think I liked the petting the most. There really is nothing like a good face-rub. In second place might be yo-yos. I was a sucker for batting at yo-yos! I detested vet visits. I was not a good patient. I started off hating to be picked up, but once I was more trusting, it wasn't so bad.
You had a very nice name. What made your family decide to call you Ludo?

Were you called any other names?
I was a giant, hairy, and lovable beast, just like Ludo in the movie The Labyrinth.
Can you share with us a nice memory your family has of you?
I was such a good boy, that all memories are good ones! I never ever ever sat in laps, except this one day, I jumped up in my mom's lap. She seemed to freaked out that she didn't want to scare me away! I didn't stay for more than a few minutes, but my mom treasures the trust I had in her to do that.
If you could have 3 Christmas wishes granted, what would they be?
1. For people to take a chance on a senior pet.
2. For all cats to have enough food this winter.
3. I wish for everyone to have a warm spot to nap in!
What five words best describe you?
Punctual, soft, gentle, friendly, and demanding
...
Thank you for a very nice interview dear angel. Anything else you would like to say to all of us?

Let's give a Holiday welcome to our sweet angelic English royalty this week...

KING LUDO! X X X
I want to thank you all again for making me this year's Christmas King!