Congratulations lovely Nefertiti on having the honor of wearing the English crown this week!

Are you happy to be queen!

How do you hope to celebrate?
I am very happy to be COTW for the second time in UDC. This time I'll be the Queen of England. I took warm clothes in my suitcase because I know London is winter and it's very cold. I'm not accustomed to plane travel and I confess I'm a little afraid. I'm sure the celebrations will be intenses with enough sweets, cakes and soft drinks. Of course good music too!
You're a four year old black Mixed Breed cat, and quite beautiful, if we must say so.

Can you tell us about yourself, and what type of character and personality you have?
I'm a very mean girl. I usually talk to my mother. I tell her everything. I am affectionate and I make a lot of purring. My mother says I'm her little flower.
How did you come to live in your nice home?

And what do you like best about your family?
I was rescued in September 2016. I had a owner but she was in town every two months. The neighbors who fed me were going to take me to another city. I was going to live in a house under construction with 5 stonemasons. That's when my mother came along. We met and she fell in love with me. In fact she saved me from those bad people. They gave me colored ration: the worst kind of ration there is. Nowadays I eat Royal Canin. I love my family. My brothers, my home. Now I have a home and much love.
You share your home with cat housemates Maria Olivia, Kevin Fox, and Pitty, and dog housemate Paco de Lucia.

How do you get along with all of them?
I get along well with everyone. The exception is Maria Olivia. We always fight. I love Kevin so much. He is my favorite.
Paco is only one day older then you, and you both will be celebrating your Birthdays this March.

Do you like having a doggie brother that is smaller then you?
Yes, I love Paco de Lucía. He is very cute and loves to play with us. As he is the smallest I have to take care of him. He looks like a mouse. We celebrate the anniversary almost the same day!
What are some of the activities you like to do in a typical day?

Do you like to sit in the windows and watch the activities of the outside world?
I love staying in the window and watching the birds. In fact I'd like to hunt them down! I love sleeping on the living room's shelf is my favorite spot. I also love the time to eat sachets and snacks. I like playing with Kevin and talking to my mom.
Besides your stunning beauty, what makes you a special girl?

What would you say is your best feature?
I think my best is to be caring. Besides understanding what my mother is talking to me about. I know how to speak Portuguese.
Many humans believe that black cats bring bad luck. What do you say to such nonsense?

What do you think makes black cats special?
Black cats are cats like other cats. However from ancient Egypt the worship of the Goddess Bast appeared. I believe that for this reason we black cats were associated with magic. But we are ordinary cats. And every cat is cute!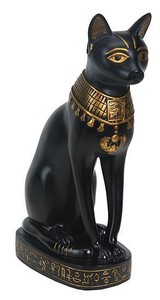 What are some of the things you like?

Is there anything you don't like?
I like affection under the neck, I like my family beautiful, I like to play with our toys, I like to eat saches and snacks, I like to sleep peacefully, I like photos, but I do not like the noise of fireworks. That scares me.
Can you share with us an entertaining story about yourself?
There in the city where I was rescued by my mother I lived in the bush. Cause my owner's house was always closed. I suffered a lot in the bush. Until I jumped out the window at a neighbor's house. But she had a cat. And I beat him. I would go up to her sink too... That's why she wanted to send me to another city. But I really hit that silly cat lolol...
At night when the humans are sleeping, cats like to have all kinds of fun. Do you have any fun night time activities?
We all in our house slept at night. Mom blinks out and everyone knows it's bedtime. Too bad Paco does not let us sleep in bed with mom.
What do you like best about being a cat?

If you could be a human for one day, what would you like to do?
I like to receive affection and attention. I like to jump with agility and climb very high. I like the elegance we cats have. If I were a human I would like to eat ice cream. Seems pretty good!
.
What five words best describe you?
Loving, caring, kind, generous and happy.
Think you for a very nice interview your royal sweetness. Anything else you would like to say to all your friends?

Let's raise our paws in admiration for our sweet and charming English royalty this week....

QUEEN NEFERTITI! X X
Yes, I really want to thank everyone who voted for me as COTW. It is an immense honor to be part of the UDC family. I will be a very kind Queen and we will have a party with lots of sweets, cakes and ice creams. Oh and sodas too. Everyone is invited! I am very happy and honored to be the English Queen of this beautiful week!