.
Hello my friends. December 6 is Saint Nicholas Day!
Before there was Santa Claus, there was Saint Nicholas, known traditionally as the "bearer of gifts". On December 6 many Europeans still celebrate Saint Nicholas Day and many Christmas traditions were originally a part of this holiday. While Saint Nick, Santa Claus, Father Christmas are all mythical characters, Saint Nicholas was a real 4th Century Greek Saint who was admired for being kind and helping those in need. He was known for secretly giving gifts to the needy and placing coins in their shoes.
The tradition of Saint Nicholas Day is still observed all across Europe, from France to Bulgaria. Each country has its own legends of the saint, and some have different ways of celebrating. Even in North America cities that have large populations of German descent, they celebrate this day..Children receive gifts in their shoes, like coins and apples (this is where the Christmas stocking comes from!). There is also a large meal with family and friends. In some families the father will dress up as Saint Nick on the eve before the special day (in the folklore Saint Nicholas would arrive with his companion Black Peter, who dealt with bad children while St. Nick rewarded the good!).
In Belgium, Saint Nicholas Day is celebrated all the way to the new year. He is the patron saint of school children. Children prepare for the coming of Saint Nicolas by dropping their slippers near the fireplace, not forgetting to leave carrots for his donkey. Saint Nicholas will also visit the schools where he will give them treats and chocolate.
Mews don't wear shoes, so Saint Nicholas will just have to leave my surprises in Mommy's shoes. But I've been being a little naughty, so I don't know. I just can't resist getting into the Christmas tree. Today, Mommy found two ornaments on the stairs. Oops, that was me. So I hope Saint Nicholas will still bring me gifts.
I wish you all a HAPPY SAINT NICHOLAS DAY and blessings to all your families. X X X
.
.
.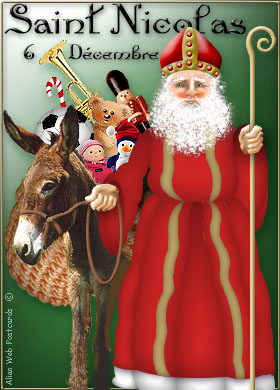 « Previous
Next »